Coming in 2018, American Management Association's AMACOM books:
Are you ready for the IoT revolution?
The Future is Smart:
How Your Company Can Capitalize on the Internet of Things
—and Win in a Connected Economy
by
W. David Stephenson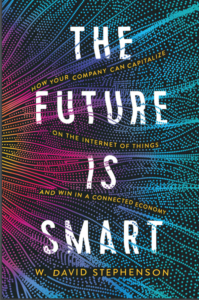 The Internet of Things (IoT) will soon be everywhere—embedded in interconnected devices we'll use every day.  Already, cars, appliances, and wearables transmit real-time data to improve performance — and IoT devices can save your life.
Consumer goods are just the tip of the iceberg. Amid projections that 30 billion smart devices will be linked in the near future, traditional companies such as Siemens, GE, and John Deere already making profound changes to management, strategy, and operations.
With the IoT, for example, sensors warn when a critical assembly-line part is about to break, allowing cost-saving "predictive maintenance," or track how customers actually use products, speeding design of upgrades. Data hubs collect and feed information instantly and simultaneous  to departments, supply chains, partners, and customers—anchoring the organization and replacing hierarchies with circular systems. The Future is Smart documents the shifts now underway. Written by a leading IoT strategist, the book explains how companies are tapping technology to:
Re-envision supply chains • Maximize quality • Boost safety • Increase efficiency • Reduce waste • Cut costs • Revolutionize product design • Delight customers • Create new revenue streams  
For those who are ready, the opportunities are endless, and you can benefit almost immediately with less-costly first steps. This big-think book reveals concrete actions for thriving in this new tech-enabled world.
W. David Stephenson (Boston, MA) is a respected IoT strategist, consultant, speaker, and the author of a top-ranked blog, on the topic.