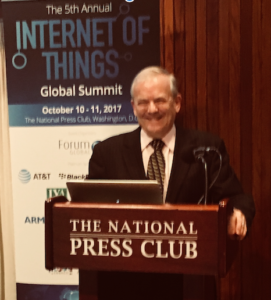 W. David Stephenson, principal of Stephenson Strategies, has built an international reputation as creative Internet of Things (IoT) consultant, thought leader and journalist.
He particularly focuses on a paradigm shift to "circular companies," away from traditional hierarchies and linear processes, to a new model in which everyone — supply chain, manufacturing, product design, marketing, distribution networks, and perhaps even customers — is united in a continuous cycle with shared, real-time IoT data as the hub; and "SmartAging," using a combination of wearable devices and smart home devices to allow seniors to "age in place" with dignity, improved health, and lower expenses.
He wrote The Future Is Smart, (HarperCollins Leadership imprint, 2018), the first guide to IoT strategy, and this blog.  He also wrote an SAP i-guide intro to IoT for executives, SmartStuff: an introduction to the Internet of Things; and Data Dynamite: how liberating information will transform our world.
Stephenson is also an expert on the role of technology in improving the aging process, currently writing a book, SmartAging, on the concept. He is an expert on explaining tech to seniors through more than five years of work at the Apple Store, creating the company's first successful senior outreach program.
He is also featured on the Apple Wellness site because of his dramatic personal health improvement using the Apple Watch. A certified home health aide, he was an early enrollee in the NIH "All of Us" data program to develop personalized medicine technologies.  Under the  VoiceID program, he recorded hours of own voice to synthesize voice for people who can't speak.
He is heading a crowd-sourced campaign to make Boston the first  US city with a free, citywide IoT data network. He founded the 3,500+ member Boston IoT Meetup.
A social media pioneer, he created the first personal disaster and pandemic preparedness apps for smartphones, and was Twitter user #2654. Frequently quoted by media, he speaks  at worldwide conferences and on numerous radio shows. He previously had a 25-year award-winning public relations/crisis management experience in health, sustainability, and alternative energy/conservation.
In addition to work for his own firm, Stephenson has been a subject matter expert for the Homeland Security Institute, and participated in the Institute for the Future's "Open Source Warfare" project.
Stephenson gained international support during the post 9/11 decade for what he calls "networked homeland security" strategies. Based on this theory, he created an emergency communications strategy for NPR-member radio stations to actively involve listeners in station response and wrote a white paper for the Department of Homeland Security's Science Directorate.
Stephenson's expertise also includes organizational transformation through Web 2.0, corporate issue management, and new economic and environmental visions. His articles on the Internet of Things, XBRL, governmental transparency, homeland security, crisis management, new economic paradigms, and advanced technology have appeared in publications and online, including The Harvard Business Review Blog, Federal Computer Week, Government Computer News,Huffington Post, Network World, The New York Times, techPresident, Homeland Security Affairs journal, The Journal of Homeland Security, Tech Central Station, The Boston Globe, Collaboration, and The Los Angeles Times. He previously wrote the "Future File" column for the MetroWest Daily News.
Stephenson previously provided award-winning crisis management, community relations, and public relations and marketing services in the environmental and renewable energy/energy conservation fields. He created Web-based strategies for companies and organizations in the energy, healthcare, education, development and environmental fields.
Stephenson served on the boards of MassNet, 1000 Friends of Massachusetts, Urban Solar Energy Association, the Charles River Watershed Association, and the Massachusetts Residential Conservation Service.
He drafted and won passage of the Massachusetts law requiring labeling of plastic packaging to encourage its recycling.
Stephenson began his career as an associate producer and writer of award-winning documentaries at WCVB-TV. He was speechwriter, assistant press secretary and press secretary to former Governor Michael Dukakis, and the Lahey Clinic's communications director. He was vice-president and director of public affairs at one of New England's largest public relations firms. Later, Stephenson was a director of strategy services at several leading Web strategy and services firms.
Stephenson won awards for New England's best campaigns of the year in public affairs, politics, and crisis management.
He earned a B.A. from Haverford College, and a M.A. from the Newhouse School at Syracuse University, where he was a University Fellow.