Huzzah!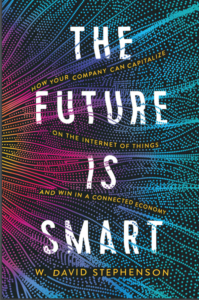 On August 7th, HarperCollins' new Leadership imprint (formerly Amacom) will publish The Future Is Smart, my guide to IoT strategy for businesses and the general public.  BTW: write me if you'd like to arrange a speaking engagement/book signing event!
As part of the build-up to the release, here's another excerpt from the book, drawn from Chapter 5: "Siemens and GE:Old War Horses Leading the IoT Revolution." It zeroes in on these two industrial companies from the 19th (!!) century that are arguably among the top IoT companies in the world (although, sadly, GE's transformation, which I'll detail in the next excerpt, has not resulted — so far — in a return to its former profitability). I highlighted these two companies in part to give comfort to old-line manufacturers that have been reluctant to embrace the IoT, and in part to shame them: if they can do it, why can't you?
Siemens is a particularly exciting example, applying IoT thinking and technology to gain a competitive edge in the railroad business, which it has been involved in since the 19th century, and because its Amberg "Factory of the Future" is the epitome of the benefits of applying the IoT to manufacturing,  The excerpt is long, but I think the details on Siemens' IoT transformation will make it worthwhile reading.
---
For all their (referring to Siemens and GE) own distinctive products and services, there are startling parallels between the two that are relevant to this book, particularly for readers whose companies have been unaware of the IoT or are modestly testing the waters. Both Siemens and GE have fully committed to the IoT and are radically reinventing themselves, their products, and their services. 
At the same time, they are not abandoning the physical for the digital: they still make products such as trains (NB: since this book went to press, GE announced it will quit to locomotive business as it struggles to regain momentum) and large medical diagnostic devices that remain necessary in the new economy, and those devices (as well as the new software lines) are used by many other companies in their own manufacturing. Both companies aren't just testing the IoT: they are on the bleeding edge of innovation in terms of both IoT technology and services.
Siemens and GE embody most of the marks of the IoT company outlined in the first chapter:
Unprecedented assembly-line precision and product quality

Drastically lower maintenance

costs and product failure

Increased customer delight and loyalty

Improved decision-making

Creating new business models and revenue streams
And, while they haven't formally addressed the sixth IoT hallmark, the circular management organization, both companies exhibit management characteristics consistent with it.
Bottom-line: if these two relics of the early Industrial Age can make the IoT transformation, why can't you?
(Siemens') innovations in industrial automation are now associated with the concept of the digital factory. "Siemens set the course for the digital automation of entire production facilities as far back as 1996, when the launch of its Totally Integrated Automation (TIA) Portal enabled companies to coordinate elements of their production operations and to closely intermesh hardware with software."
Siemens has benefited in recent years from the German government's formal strategy for what it calls "Industrie 4.0," to merge physical products with digital controls and communications. The initiative is supported by funding from the German Federal Ministry of Education and Research and the German Federal Ministry of Economic Affairs and Energy and emphasizes the merger of the digital and physical in manufacturing through cyber-physical control systems. Because the U.S. federal government doesn't weigh in on specific economic plans to the same extent, the concept is more advanced in Europe, and the term has gathered cachet, especially as specific examples have proved profitable.
Factory of the Future:
The shining example of Industrie 4.0 is the previously mentioned Siemens plant in Amberg. It has increasingly computerized over the past 25 twenty-five years, and now is a laboratory for fusion of the physical and digital.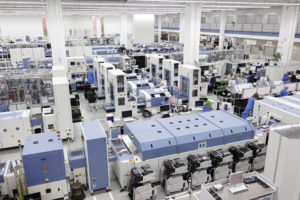 The plant's 99.99885 percent quality rate would be astounding by any measure, but is even more incredible when you realize that it does not do daily repetitions of the same mass-production product run. Instead, Amberg is where the company makes the Simatic programmable logic controls (PLCs) .. that are the heart of its industrial output and which are used worldwide to allow Machine-to-Machine (M2M) automated assembly line self-regulation. They are made in more than a thousand variations for 60,000 customers worldwide, requiring frequent readjustments of the production line. In one of the ultimate examples of eating your own dog food, a thousand Simatic units are used to control the assembly line. Total output at the factory is 12 million yearly, or approximately one per second.
One downside of the Amberg system's efficiency is that automation has nearly eliminated assembly line jobs: the only time humans touch one of the products is to put the initial circuit board on the assembly line. The 1,100-person workforce deals almost entirely with computer issues and overall supervision of the assembly line. Nevertheless, Siemens doesn't visualize a totally automated, workerless factory in the future:
"We're not planning to create a workerless factory," says [Plant Manager Professor Karl-Heinz] Büttner. After all, the machines themselves might be efficient, but they don't come up with ideas for improving the system. Büttner adds that the employees' suggested improvements account for 40 percent of annual productivity increases. The remaining 60 percent is a result of infrastructure investments, such as the purchase of new assembly lines and the innovative improvement of logistics equipment. The basic idea here, says Büttner, is that "employees are much better than management at determining what works or doesn't work in daily operation and how processes can be optimized." In 2013 the [plant] adopted 13,000 of these ideas and rewarded employees with payments totaling around €1 million.
As Siemens develops new IIoT software, it is deployed at the Amberg factory to control the Simatic control units, which generate more than 50 million data points daily for analysis. Among other programs, the factory runs the NX and Teamcenter project lifecycle management software, allowing the staff to share realtime insights on the assembly line and fine-tune its operation.
Siemens's strategy of merging the physical and digital has meant that its software offerings constantly expand, and they facilitate the kind of real and virtual collaborative workstyles that will be discussed at length in Chapter 8. Among others, they include offerings that specifically address key aspects of the IoT:
Product Lifecycle Management software programs, which let engineers both model new products and extensively test them virtually, without having to build and test physical models. This both cuts costs and allows more experimentation with "what if" variations on a design, because the risk of creating alternatives is so low. As we will see later, products designed with PLM can reach the market 50 percent faster. One particularly interesting part of the PLM offerings is one specifically for additive manufacturing (i.e., 3-D printing), to capitalize on this emerging option. Siemens has brought all of these programs together under the Teamcenter label, emphasizing that it provides an "open framework for interoperability," a critical example of the "share the data" Essential Truth discussed in Chapter 2, allowing anyone who needs it companywide to access critical realtime data.
Digital Twins used in coordination with PLM, discussed earlier (Chapter 4) as the highest manifestation of the digital/physical synthesis, allow rigorous testing of products before they are launched.
Perhaps the most important of these software offerings for full realization of the Industrie 4.0 vision is the new combination of Siemens XHQ Operations Intelligence Software with the open-systems Siemens MindSphere cloud that adds advanced analytics and machine learning. Also, because it is cloud-based, the XHQ data can be ported to other cloud-based applications. If your company is considering an IoT initiative, the cloud-based alternative not only can save money compared to self-storage, but also opens the opportunity for using cloud-based Software as a Service (SaaS).
Railigent
Fittingly, some of the most dramatic examples of Siemens's IoT thinking in action have centered on one of its oldest lines of business: those electric trains invented in the nineteenth century.  The company's Railigent system (which connects to its IoT Mindsphere platform) can:
cut rail systems' operating costs by up to 10%

deliver eye-popping on-time performance (only 1 of 2,300 trains was late!)

and assure 99% availability through predictive maintenance.
Its new Mobility Services have taken over maintenance for more than fifty rail and transit programs.
Again, the company's years of experience building and operating trains pays off in the cyberworld. Dr. Sebastian Schoning, ceo of Siemens's client Gehring Technologies, which manufactures precision honing tools, told me that it was easier to sell Siemens's digital services to his own client base because so much of the products they already own include Siemens devices, giving his customers confidence in the new offerings.
The key to Siemens's Mobility Services is Sinalytics, its platform architecture for data analysis not just for rail, but also for industries ranging from medical equipment to windfarms. More than 300,000 devices currently feed realtime data to the platform. Sinalytics capitalizes on the data for multiple uses, including connectivity, data integration, analytics, and the all-important cyber security. They call the result not Big Data, but Smart Data. The platform also allows merging the data with data from sources such as weather forecasts which, in combination, can let clients optimize operating efficiency on a real-time M2M basis.
Elements of an IoT system on the trains that can be adapted to other physical products include:
Sensing

.

There are sensors on the engines and gearboxes. Vibration sensors on microphones measure noises from bearings in commuter trains. They can even measure how engine oil is aging, so it can be changed when really needed, rather than on an arbitrary schedule, a key predictive maintenance advantage.

Algorithms: These make sense of the data and act on it. They read out patterns, record deviations, and compare them with train control systems or with vehicles of the same type.
Predictive Maintenance: 

This

 replaces scheduled maintenance, dramatically reducing downtime and catastrophic failure. For example: "There's a warning in one of the windows (of the control center display): engine temperature unusual. 'We need to analyze the situation in greater depth to know what to do next—we call it root cause analysis,' (says) Vice-President for Customer Support Herbert Padinger. 'We look at its history and draw on comparative data from the fleet as a whole.' Clicking on the message opens a chart showing changes in temperature during the past three months. The increased heat is gradually traced to a signal assembly. The Siemens experts talk with the customer to establish how urgent the need for action is, and then take the most appropriate steps."8

Padinger says that temperature and vibration analyses from the critical gearboxes gives Siemens at least three days advance notice of a breakdown—plenty of time for maintenance or replacement. Predictive maintenance is now the norm for 70 to 80 percent of Siemens's repairs.

Security:

 This is especially important given all of the miles of track and large crowds on station platforms. It includes video-based train dispatch and platform surveillance using Siemens's SITRAIL D system, as well as cameras in the trains. The protections have to run the gamut from physical attacks to cyber-attacks. For security, the data is shared by digital radio, not networks that are also shared by consumers.
When operations of physical objects are digitized, it allows seamlessly integrating emerging digital technologies into the services—making these huge engines showcases for the newest technologies. For example, Siemens Digital Services also included augmented reality (so repair personnel can see manuals on heads-up displays), social collaboration platforms, and—perhaps most important—3-D printing-based additive manufacturing, so that replacement parts can be delivered with unprecedented speed. 3-D printing also allows a dramatic reduction in parts inventories, It allows for replacement of parts that may no longer be available through conventional parts depots. It may even improve on the original part's function and durability, based on practical experience gained from observing the parts in use. For example, it's often possible with 3-D printed replacement parts to consolidate three or four separate components into a single one, strengthening and simplifying it. Siemens has used 3-D printing for the past last three years, and it lets them assure customers that they will have replacement parts for the locomotive's entire lifespan, which can exceed thirty years.
The new Mobility Services approach's results are dramatic:
None of the Velaro trains that Siemens maintains for several operators have broken down since implementing Sinalytics. Among those in Spain only one has left more than fifteen minutes behind time in 2,300 trips: a 0.0004 percent lateness rate.

Reliability for London's West Coast Mainline is 99.7 percent.

Perhaps most impressive because of the extreme cold conditions it must endure, the reliability rate for the Velaro service in Russia is 99.9 percent.

11
Siemens's ultimate goal is higher: what the company calls (pardon the pun) 100 percent Railability.
When it does reach those previously inconceivable quality benchmarks, Siemens predicts that, as the software and sensors evolve, the next stage will be new business models in which billing will be determined by guaranteeing customers availability and performance. The manufacturing industry is now at the stage where the automation of complete workflows is the only way to ensure a long-term, defendable, competitive position.
Siemens emphasizes that it's not enough to simply digitize the design process. Everything from design through supply chain, manufacturing, distribution, and service must be linked in a continuous digital web, with "complete digital representation of the entire physical value chain is the ultimate goal."
The fact that Siemens doesn't just sell these IoT services but makes their own manufacturing the laboratory to develop and test them is an incredible testimonial to the IoT's transformative potential in every aspect of companies' operations. So, as I asked above, why are you holding back? Like to think that The Future Is Smart will give you the manual you need to make the transition (why wait for August  7, when you can preorder today?).