Sorry to burden you with another personal Internet of Things story, especially since this one's nowhere near as nice as how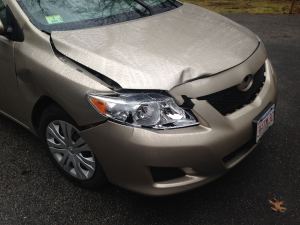 smart sockets made peace in my house!
For the second time in less than a month, I was hit by a deer at night on Rt. 27 in Medfield, MA. If you know our area, its in the outer suburbs, and plagued by deer, who are mating at this time of year, and are absolutely nuts. Two hours later, I'm still shaking, and extremely lucky to have escaped a serious injury.
I don't know if  it would have avoided a collision, because they were running sooo fast, but you can be sure that my next car with be a smart one, with sensors and an automatic braking system like the ones on TMercedes, BMWs and high-end Hyundai's.  Here's something where the smart version wouldn't just simplify something, but would observe one of my "Essential Truths" of the IoT, "what can you do now that you couldn't do before."
No driver who was focused on the road ahead could have possibly seen these deer rushing out of the pitch-black woods on the other side of the road (or, if he did, he would have crashed into something else because of taking his eyes off the road), but a motion-sensor coupled to the brakes would have detected motion in time to apply the brakes and maybe avoid the crash.
Tonight was one of the most traumatic events of my life, between the accident and the first time I've ever heard a gunshot up close, as the police put the doe out of her misery. If I can invest in IoT technology to avoid it happening again, I'll be at the head of the line!