The Internet of Things can kill you.
Got your attention? OK, maybe this is the wake-up call the IoT world needs to make certain that privacy and security are baked in, not just afterthoughts.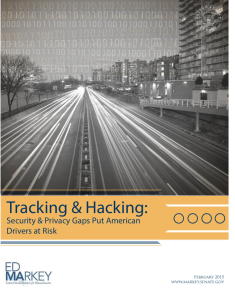 I've blogged before about how privacy and security must be Job 1, but now it's in the headlines because of a new report by our Mass. Senator, Ed Markey (Political aside: thanks, Ed, for more than 30 years of leadership — frequently as a voice crying in the wilderness — on the policy implications of telecomm!), "Tracking & Hacking: Security & Privacy Gaps Put American Drivers at Risk," about the dangers of not taking the issues seriously when it comes to smart cars.
I first became concerned about this issue when reading "Look Out, He's Got an Phone,!" (my personal nominee for all-time most wry IoT headline…), a litany of all sorts of horrific things, such as spoofing the low air-pressure light on your car so you'll pull over and the Bad Guys can get it would stop dead at 70 mph,  that are proven risks of un-encrypted automotive data.  All too typical was the reaction of Schrader Electronics, which makes the tire sensors:
"Schrader Electronics, the biggest T.P.M.S. manufacturer, publicly scoffed at the Rutgers–South Carolina report. Tracking cars by tire, it said, is 'not only impractical but nearly impossible.' T.P.M.S. systems, it maintained, are reliable and safe.

"This is the kind of statement that security analysts regard as an invitation. A year after Schrader's sneering response, researchers from the University of Washington and the University of California–San Diego were able to 'spoof' (fake) the signals from a tire-pressure E.C.U. by hacking an adjacent but entirely different system—the OnStar-type network that monitors the T.P.M.S. for roadside assistance. In a scenario from a techno-thriller, the researchers called the cell phone built into the car network with a message supposedly sent from the tires. 'It told the car that the tires had 10 p.s.i. when they in fact had 30 p.s.i.,' team co-leader Tadayoshi Kohno told me—a message equivalent to 'Stop the car immediately.' He added, 'In theory, you could reprogram the car while it is parked, then initiate the program with a transmitter by the freeway. The car drives by, you call the transmitter with your smartphone, it sends the initiation code—bang! The car locks up at 70 miles per hour. You've crashed their car without touching it.'"
Hubris: it'll get you every time….
So now Senator Markey lays out the full scope of this issue, and it should scare the daylights out of you — and, hopefully, Detroit! The report is compiled on responses by 16 car companies (BMW, Chrysler, Ford, General Motors, Honda, Hyundai, Jaguar Land Rover, Mazda, Mercedes-Benz, Mitsubishi, Nissan, Porsche, Subaru, Toyota, Volkswagen (with Audi), and Volvo — hmm: one that didn't respond was Tesla, which I suspect [just a hunch] really has paid attention to this issue because of its techno leadership) to letters Markey sent in late 2013. Here are the damning highlights from his report:
"1. Nearly 100% of cars on the market include wireless technologies that could pose vulnerabilities to hacking or privacy intrusions.

2. Most automobile manufacturers were unaware of or unable to report on past hacking incidents.

3. Security measures to prevent remote access to vehicle electronics are inconsistent and haphazard across all automobile manufacturers, and many manufacturers did not seem to understand the questions posed by Senator Markey.

4. Only two automobile manufacturers were able to describe any capabilities to diagnose or meaningfully respond to an infiltration in real-time, and most say they rely on technologies that cannot be used for this purpose at all. (my emphasis)

5. Automobile manufacturers collect large amounts of data on driving history and vehicle performance.

6. A majority of automakers offer technologies that collect and wirelessly transmit driving history data to data centers, including third-party data centers, and most do not describe effective means to secure the data.

7. Manufacturers use personal vehicle data in various ways, often vaguely to "improve the customer experience" and usually involving third parties, and retention policies – how long they store information about drivers – vary considerably among manufacturers.

8. Customers are often not explicitly made aware of data collection and, when they are, they often cannot opt out without disabling valuable features, such as navigation."
In short, the auto industry collects a lot of information about us, and doesn't have a clue how to manage or protect it.
I've repeatedly warned before that one of the issues technologists don't really understand and/or scoff at, is public fears about privacy and security. Based on my prior work in crisis management, that can be costly — or fatal.
This report should serve as a bit of electroshock therapy to get them (and here I'm referring not just to auto makers but all IoT technologists: it's called guilt by association, and most people tend to confabulate fears, not discriminate between them. Unless everyone in IoT takes privacy and security seriously, everyone may suffer the result [see below]) to realize that it's not OK, as one of the speakers at the Wearables + Things conference said, that "we'll get to privacy and security later." It's got to be a priority from the get-go (more about this in a forthcoming post, where I'll discuss the recent FTC report on the issue).
I've got enough to worry about behind the wheel, since the North American Deer Alliance is out to get me. Don't make me worry about false tire pressure readings.
---
PS: there's another important issue here that may be obscured: the very connectedness that is such an important aspect of the IoT. Remember that the researchers spoofed the T.P.M.S. system not through a frontal assault, but by attacking the roadside assistance system? It's like the way Target's computers were hacked via a small company doing HVAC maintenance. Moral of the story? No IoT system is safe unless all the ones linking to it are safe.  For want of a nail … the kingdom was lost!