I'm still dubious about the Internet of Things refrigerator meme (although, as someone who shops daily for dinner and only decides what to cook about 2 hours before hand on the basis of a web search for something novel, it would be cool to instantly know what ingredients I had on hand…), BUT home automation is definitely cool (and the Nest's success shows consumers are ready for it).
I bet having the IoT affect people's home life will also drive a lot of IoT adoption at work (the same way a lot of CEOs were introduced to the wonders of e-commerce back in the day when their kids showed them how to buy books on Amazon).
SOO, the news that ivee Sleek has launched a Kickstart campaign (as is typical for IoT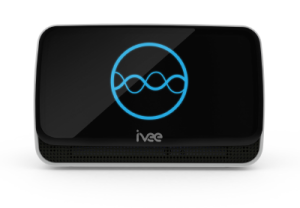 campaigns on Kickstart, it's already waay over its goal!!)  for its wifi voice activated assistant for the home is big news! There's already one backer who's pledged $10,000, and gets the Big Enchilada perk:
"All-inclusive Factory Tour in Asia! — We will first fly you out to meet us in Hong Kong for dinner and a night on the town with the ivee team. The next day we will head to Shenzhen in order to visit our factory and tour the manufacturing floor. You will have a chance to pick any ivee (in either pearl white or night black) as she is being made right before your eyes! We'll spend the night in Shenzhen before heading back to Hong Kong for the remainder of the trip. This trip will include air fare + hotel + meals for 7 days. Limited to 5."
I ask you, does crowdsourcing rule, or what???
The team says that "Our goal is to create a simpler and more natural way of interfacing with the Internet and your smart home. We want to deliver the virtual assistant experience that you've been dreaming about for years. (their italics)"
Here's the nitty-gritty: the device will ship in October, and initial voice commands that you'll be able to speak include:
Reminders – e.g. "Remind me to pick up the kids from school at 2:45pm."
Controls Devices – e.g. "Set the thermostat to 71 degrees."
Alarms – e.g. "Wake me up at 6:30am."
Time – e.g. "What time is it in Hong Kong?"
Weather – e.g. "What's the weather going to be like in New York on Friday?"
Stocks – e.g. "What's the stock price of Google?"
Sleep Sounds – e.g. "Play ocean waves for 15 minutes."
Bed Time Stories – e.g.  "Read me a bed time story, please."
Settings – e.g.  "Turn up the volume."
FM Radio – e.g. "Tune the radio to 102.7 FM."
Personality – e.g. "How old are you?"
I know there are some who grumble that getting this kind of information automatically will make us slaves to our machines, but it seems to me that it will actually just remove a lot of the minor hassles from our lives and improve our quality of life (and, as the website points out, it can be a real benefit for those with vision problems or who have trouble with computers), so I opt in!
ivee's online dashboard will let users personalize their experience and connect it to many third party smart home devices, such as thermostats, locks, lights, plugs, vacuums, and more, including the Nest, WeMo, and the Roomba.
Now we're talking!