I'm very excited today, because "Managing the Internet of Things Revolution, I Guide Presented by SAP ," the interactive guide to Internet of Things (IoT) strategy that I wrote (with astute editing from SAP's Mahira Kalim!) is live!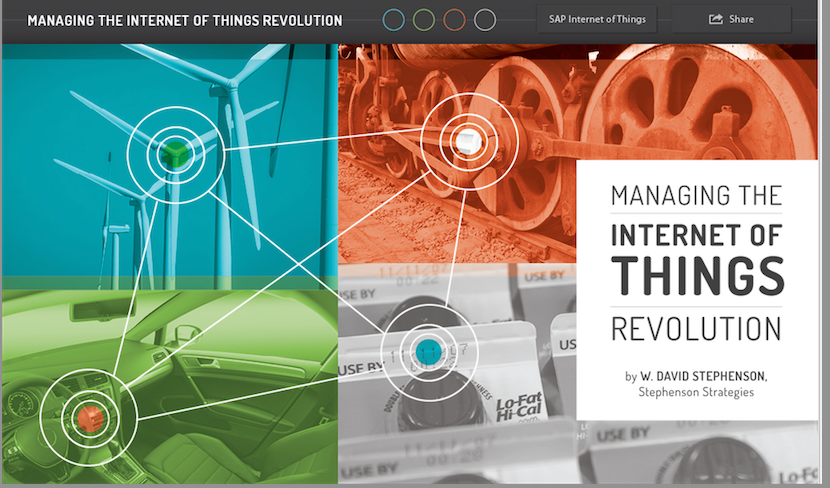 It is aimed at C-level executives who will determine IoT strategy, and I'd really appreciate it if you'd pass the word to anyone you know in that category!
I think the guide's most noteworthy aspect is that it doesn't just dwell on the amazing transformations companies can achieve when the IoT is fully realized, but also places particular emphasis on IoT benefits companies can realize today, building on investments they have already made in transactional technology, to optimize their current operations:
add sensors to equipment and things to report their status in real-time, improving understanding of products' performance and how they are used.
adopt predictive analytics, which will allow real-time decision making by combining data about things' current state with past data such as sales, to optimize supply-chains, pinpoint demand predictions, and improve maintenance.
adopt big-data tools & cloud computing to manage the IoT's quantum increases in data.
improve decision-making, by giving everyone who needs it real-time data.
It mentions my favorite old-school IoT early adopter, the Union Pacific Railroad, which has achieved 75% reductions in bearing-related derailments by placing sensors every 20 miles along its railbed, and has big plans to put sensors on every wheel once their price and size meet the "smart dust" goal.
The guide also looks to the future, when global implementation of the IoT will allow total transformation of companies. The benefits will include:
new revenues, from leasing of devices that includes giving customers real-time data to optimize performance.
delighting customers with products designed based on knowledge of how customers actually use them and rapidly refined based on data from the field.
creating synergistic partnerships between companies based on shared data.
SAP, I should emphasize, is a great partner for IoT initiatives. It delivers end-to-end real, repeatable, and scalable solutions for the IoT: connecting remote devices securely, integrating IoT data into business processes, and analyzing the resulting big data to generate actionable insights and optimize business in real-time. Here's an eye-popping stat about them: SAP systems run 60% of the world's GDP!
I hope you'll enjoy the guide, and that you'll pass it along. The print version was much longer than what the design firm was able to squeeze into the interactive version, so I'll be releasing more of that in the blog in the near future!