Categorize this under "posts I've been meaning to write for a long time!"
For the current writing assignment I'm working on, I'm looking for as many good examples of practical Internet of Things applications that are available right now.
There are two sites that I repeatedly go to for those examples that deserve some praise.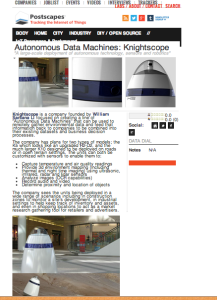 One is Postscapes, which I find to be an important all-around IoT news source. It features products (and links to their sites) in the "Body," "Home," "City" and "Industry" categories, as well as a DIY/Open Source grouping. The descriptions are well written and it's attractive.
The other site is a corporate one, from Libelium, the Spanish open source sensor platform. A portion of its site is devoted to "50 Sensor Applications for a Smarter World," grouped under "Smart Cities," "Smart Environment," "Smart Water," "Smart Metering," "Retail," "Logistics," "Industrial Control," "Smart Agriculture," "Smart Animal Farming," "Security and Emergencies," "Domotic and Home Automation," and "eHealth." There's a wealth of accompanying information about — surprise! — the Libelium sensors that are matched to each of these applications. Of course it's marketing for Libelium, but the range of applications does illustrate the wide range of ways that the IoT is already affecting industry, cities, and personal lives.
Check both sites out — and point your skeptical contacts who wonder if the IoT is just a laboratory curiosity to them!