Have I told you lately how much I love IFTTT? Of course!  As I've said, I think they are a phenomenal example of my IoT "Essential Truth" question: who else can use this data?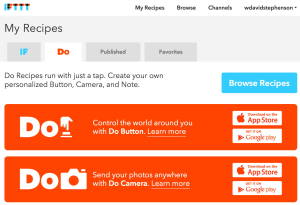 Now, they've come up with 3 new apps, the "DO button," "DO camera," and "DO Note," that make this great tool even more versatile!
With a DO "recipe," you simply tap on the appropriate app, and the "recipe" runs. Presto! Change-o!
As a consultant who must bill for his time, I particularly like the one that lets you "Track Your Work hours" on Google Drive, but you're sure to find your own favorites in categories such as play, work, home, families, and essentials. Some are just fun, and some will increase your productivity or help manage your household more easily (hmm: not sure where "post a note to your dog's timeline" fits in (aside to my sons: feel free to "send notes to your data via email".  If past experience is any indication, there should be many, many more helpful "Do" recipes as soon as users are familiar with how to create them.
As I've said before, it's no reflection on the talented engineers at HUE, NEST, et. al., but there's simply no way they could possibly visualize all the ways that their devices could be used and/or combined with others, and that's why IFTTT, by adding the crowdsourcing component and democratizing data, is so important to speeding the IoT's deployment.