A chance conversation about the IoT the other day turned me on to this elegant proof-of-concept that what I call "Smart Aging" to help seniors be healthier and avoid institutionalization is possible: my Jawbone UP bracelet could now control my Nest thermostat (if I had one: with three heating zones in my house, I'm gonna wait until the NEST price drops before I'll buy them…).
That, ladies and gentlemen, is exactly what I'm talking about with my concept of "Smart Aging" for seniors, which would combine:
Quantified Self devices such as Jawbone UPs, Nike FuelBand, the congestive heart failure necklace,  or the Biostamp sensor (more about that one in a future post!) that will easily and unobtrusively monitor your bodily indicators and, if you choose, report them to your doctor, both to improve diagnoses, and to encourage you to adopt healthy practices such as a daily walk.
smart home devices such as the NEST or the voice-activated Ivee hub.
Even better, if device manufacturers get it about one of my Essential Truths about the IoT:  who else could use this data?, they will allow free access to their algorithms, and someone will realize that 1+1=3: the two devices are even more powerful when linked! In this case, the Jawbone UP is powerful, and so is the Nest, but something totally new is possible when they are linked:
"By connecting your UP24 with your Nest Thermostat, the temperature of your house will automatically adjust to a temperature you prefer – the moment you go to bed or wake up.

"Through UP Insights, we have shared the fact that an ideal sleeping environment is cooler, between 65 and 72 degrees. With the Nest integration, we no longer just tell you this fact. We make it a reality. Once your band enters Sleep Mode, your thermostat will kick down to your ideal temperature. And when you wake? You guessed it. Your thermostat will automatically adjust to a warmer temperature… all without leaving your bed."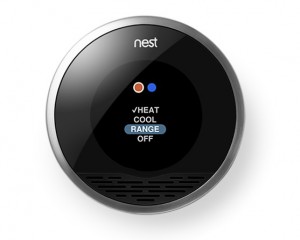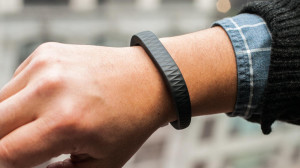 How cool (or hot, depending on the season…) is that?
I particularly like it for seniors because of one UP feature: instead of setting a precise wake-up alarm, you also have the option of creating a 30-minute window when it it should vibrate to wake you, with the exact time determined by what the UP determines is the ideal point in your natural sleep cycle.  Some working people on extremely tight morning schedules may not want to take advantage of that option, but for seniors, answering to no one but themselves, that would be an added benefit: get the best possible sleep, AND get up in a warm house (oh, and while you're at it, why not link in some Phillips HUE lights and a coffee pot plugged in to a Belkin WeMo socket, so that you'll also have fresh-brewed coffee and a bright kitchen?).  Sweet!
Do the math: one IoT-empowered device is nice, but link several more of them, and 1 + 1 = 3 — or more!