I always love the Internet of Things Global Summit in DC because it's the only IoT conference I know of that places equal emphasis on both IoT technology and public policy, especially on issues such as security and privacy.
At this year's conference, on the  26th and 27th, I'll speak twice, on "Smart Aging" and on the IoT in retailing.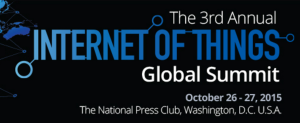 In the past, the event was used to launch major IoT regulatory initiatives by the FTC, the only branch of the federal government that seems to really take the IoT seriously, and understand the need to protect personal privacy and security. My other fav component of last year's summit was Camgian's introduction of its Egburt, which combines "fog computing," to analyze IoT data at "the edge," and low power consumption. Camgian's Gary Butler will be on the retail panel with me and with Rob van Kranenburg, one of the IoT's real thought leaders.
This year's program again combines a heady mix of IoT innovations and regulatory concerns. Some of the topics are:
The Internet of Things in Financial Services and the Insurance sector (panel includes my buddy Chris Rezendes of INEX).
Monetizing the Internet of Things and a look at what the new business models will be
The Connected Car
Connected living – at home and in the city
IoT as an enabler for industrial growth and competition
Privacy in a Connected World – a continuing balancing act
The speakers are a great cross-section of technology and policy leaders.
There's still time to register.  Hope to see you there!